Published on: August 28th, 2023
Written by: Lisa Jennings
Article source: Restaurant Business
The CEO of Qdoba-parent Modern Restaurant Concepts is borrowing from the playbook used during his leadership at both Applebee's and KFC. The first step, however, was selling the Lemonade brand.
 As the 755-unit Qdoba Mexican Eats sets out to double its unit count, CEO John Cywinski is leaning on a familiar playbook. 
 The former president of Applebee's was named CEO of Modern Restaurant Concepts (MRC) in January, the parent company of the fast-casual brands Qdoba Mexican Eats and Modern Market. Earlier this month, MRC announced some big plans for growth, which will lean primarily on franchising. 
Cywinski sat down with Restaurant Business to explain the strategy for growing the fast-casual Qdoba, as well as sister-brand Modern 
Market Eatery. The roadmap will sound very familiar to anyone who followed Cywinski's career at Applebee's, or, before that, at KFC.
Cywinski, for example, has long been a fan of the asset-light model of franchising, and that will be true for both Qdoba and Modern Market—the latter a brand that has not been franchised previously.
Here are some highlights of Cywinski's strategy. 
Lemonade was sold.
One of the first orders of business for Cywinski was to sell the almost 20-unit Lemonade brand, which had merged with Modern Market in 2019 under parent Butterfly Equity. 
The buyer, however, remains a mystery. Lemonade officials say the new owners were not ready to announce the acquisition, which occurred about two months ago.
But Cywinski said the sale of Lemonade was "inevitable" because both Lemonade and Modern Market are in the "better-for-you" fast-casual space.
"I didn't feel we needed both," he said. "We're all in on Modern Market." 
Modern Market has launched franchising, but the first franchise operator to join the family is not from Qdoba. He's an Applebee's franchisee.
Applebee's franchisee Thrive Restaurant Group has acquired three Modern Market locations in Austin, Texas, and that's the beginning of a refranchising plan for that brand, which has about 30 units, mostly in Colorado.
Next, MRC plans to refranchise Modern Market units in the Phoenix market, Cywinski said. Eventually, the company also plans to refranchise its units in Colorado, where the brand was born.
Cywinski said Thrive, meanwhile, has committed to open another 41 Modern Markets units over the next few years. The first will be in Kansas City, but Thrive also plans to develop Wichita, San Antonio, Texas, and markets in Iowa and North Carolina, where Thrive already has infrastructure with Applebee's. 
Meanwhile, MRC is planning to open the first drive-thru location of Modern Market in Colorado Springs, Colo., which would also offer some learnings on the format for that brand, which Cywinski said has an average unit volume of more than $2 million currently.
But, like Qdoba, growth going forward for Modern Market will come only from franchisees. 
Qdoba franchisees want to accelerate growth, but the existing base needs a bit of pruning.
Cywinski contends that Mexican fast-casual is a "very, very attractive category," and there are really only two primary contenders.
"There's Chipotle and then us," he said. "You won't find a category that's as attractive with as few national players."
Chipotle, of course, does not franchise in the U.S. So franchise operators looking to get into the fast-casual Mexican space will likely look first to Qdoba, he said.
The San Diego-based brand has had positive same-store sales in 17 of the past 20 years. Since the pandemic, same-store sales were up 10% in fiscal 2021, 12% in fiscal 2022, and about 6% year to date, Cywinski said.
Qdoba units average about $1.6 million in sales, and that number is expected to climb as the chain grows, he said. By the end of the current fiscal year in September, Qdoba will have about 755 units—that includes about 40 new openings this year. Roughly 60 are expected to open in 2024 and 80 to 100 in 2025 and going forward, he said. 
But with that growth, Qdoba also plans to do some "pruning" of underperforming locations, Cywinski said. About 15 units have or will be closed in fiscal 2023, and another 10 next year.
"I'd like to prune up the system annually at a rate of about 1%, maybe 1.5%," said Cywinski.
That's a move from the Applebee's playbook. While leading that brand, Cywinski saw a need to close about "300-ish" Applebee's locations to clean up the system and unlock growth, he said. 
Qdoba is a bit different in that the brand has "a terrific portfolio" and much of the pruning has already been done, he contends.
But, unlike Applebee's, the company plans to hold onto about 150 Qdoba units in New England, Michigan and Colorado, he said.
The company sold 77 company units to Qdoba's largest franchise operator, North Fork Fresh Mex, earlier this year. For now, the refranchising initiative is done, he said. 
Expect some franchisee consolidation.
Qdoba is 80% franchised currently, a percentage that will grow soon to about 90%. The brand has 85 franchise partners, but some are small, single-unit operators.
Cywinski expects to see some consolidation as franchisees grow the brand. Some larger players will likely acquire smaller players to move into new markets, he said.
"I have demand from existing partners who want to build new units, and some of them want to acquire other franchisees. Then I have franchisees on the outside who want in," said Cywinski. "So we can afford to be opportunistic and selective."
So far, Qdoba has grown primarily in the Midwest. The highest concentration of units is in the brand's home state of Colorado (83), followed by Michigan (65), Wisconsin (60), Indiana (40), Kentucky (35) and Missouri (35).
Cywinski sees significant white space in the South and Southeast, including states like Texas, Florida, Tennessee, Ohio and South Carolina. 
Unlike Chipotle, which is pushing to reach 7,000 units in North America with the help of new formats—and, in particular, drive-thru Chipotlanes—Qdoba is sticking to its existing model, which is typically a 2,000-square-foot end cap. The model has already been engineered for efficiency and costs about $800,000 to build, he said. 
Qdoba has only about 20 drive-thru units in the system currently, he said. 
"It'll take us seven to eight years to double in size" to roughly 1,500 units, he said. "But 1,500 is not capacity. This brand could be easily north of 2,500 restaurants, but we're going to go one step at a time." 
Qdoba is preparing to take its marketing push national.
Because the markets where Qdoba operates are so fragmented, the brand has always focused marketing on more local efforts. But in the next fiscal year, Qdoba plans to launch a national advertising campaign for the first time to raise brand awareness.
That campaign will be possible in part because of the chain's planned franchise growth, which will feed the brand's ad fund.
What that marketing campaign will look like will be revealed later. But Cywinski said one thing he does not plan to do is rely on discounting.
Instead, Qdoba's national campaign will focus on core attributes of the brand, like the customization and use of fresh ingredients.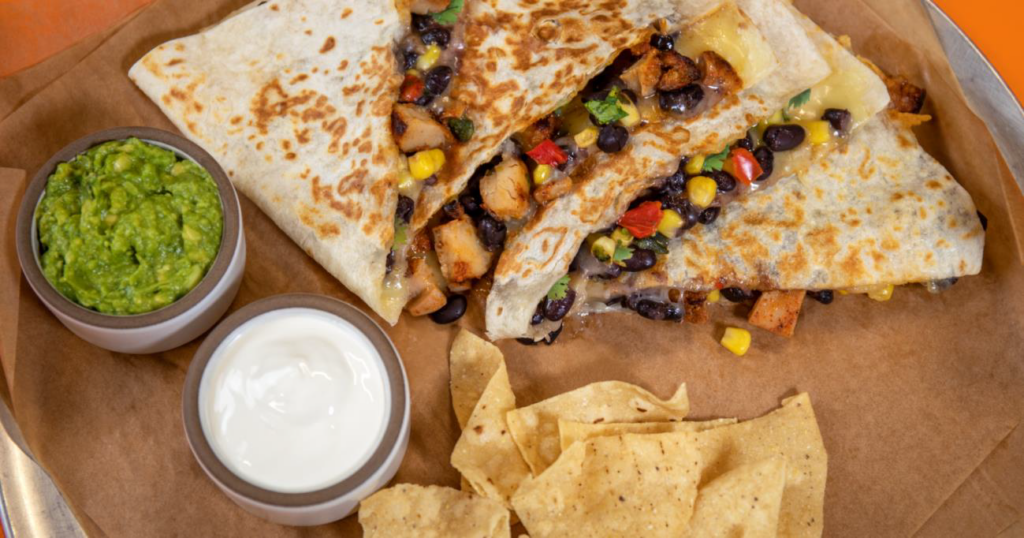 "Everyone in America knows Qdoba, but I'm not convinced they really know who we are and what we stand for," said Cywinski. "What's missing in the Qdoba story is the introduction of the Qdoba brand to America. That's a very important step for the brand."
A former marketer, Cywinski also scored some big advertising wins for Applebee's while he was there, including the "Eatin' Good in the Neighborhood" campaign. 
Cywinski was also at the helm at Applebee's when country singer Walker Hayes came out with the song "Fancy Like," about a date night at the casual dining chain. With help from Hayes and his daughter, the song went viral with a TikTok video that brought that brand untold amounts of free exposure. 
Qdoba has not yet picked the ad agency partner for next year's campaign and Cywinski said he also needs to make sure the right marketing leadership is in place for the brand.
Fundamentally, he believes Qdoba has a lot to tell the world.
"I know that people understand that Chipotle and Qdoba operate in the same space, and they are similar fast-casual business models, but there is significant opportunity to frame who we are and what we stand for, and that's where national marketing comes in," he said. "When we get to that point, it will be a significant growth engine for the business."