Nontraditional franchise locations like airports and college campuses play a big role in driving brand awareness. QDOBA has 25+ years of expertise and flexible buildouts to fit any space.
At first glance, a nontraditional franchise opportunity may not seem like a worthwhile addition to your franchise portfolio. But despite their small size, nontraditional locations play a big role in driving brand awareness. Add in a franchise brand that offers flexible buildouts and you've got a great recipe for making this type of location work for you.
So, before you dismiss this type of franchise development, it's a good idea to learn more about the benefits of a nontraditional location, and why you want to invest in a brand that's a player in this space.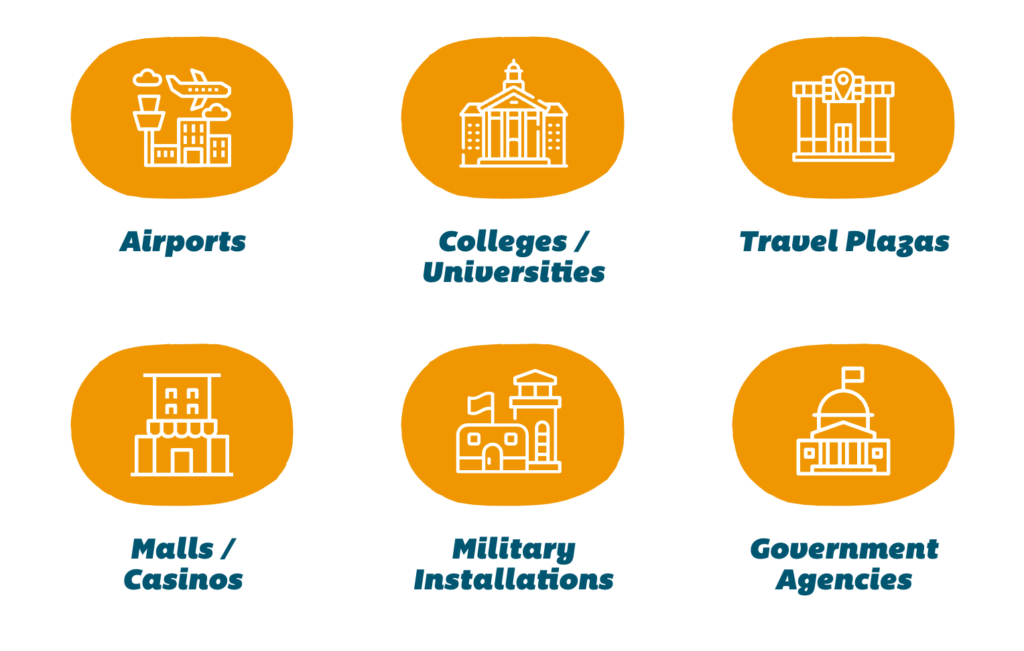 What exactly is a nontraditional franchise location?
Nontraditional locations are smaller spaces that are in an area that large numbers of people pass through. Think airports, shopping malls, casinos, college campuses and military bases. They are always high-traffic, high-visibility locations, and because of this, they are a great way to drive brand awareness and reach customers. There are many benefits to nontraditional locations, and they can be a great way to build your franchise portfolio, especially in mature markets where the traditional franchise opportunity is nearing saturation.
How do I choose the best nontraditional location franchise brand opportunity?
Being in a nontraditional space builds brand awareness and reaches customers who might otherwise not be exposed to the brand. It helps generate overall brand awareness, which is essential to helping a brand grow and target key markets. If you're looking to invest in a nontraditional franchise opportunity, you'll want to find a brand that has the experience to help you grow this type of location and offers a building prototype that's designed to fit well into smaller spaces.
QDOBA has been bringing its fresh menu of made-in-house Mexican flavors to nontraditional spaces for 25 years. In February, the brand got the chance to showcase its presence in airports by exhibiting at the Airport Experience Conference, the largest gathering of airport decision-makers and concession executives of the year. Airports are a perfect example of a nontraditional location, with high foot traffic that drives the brand recognition QDOBA is looking for.
What exactly is a flexible buildout?
A flexible buildout is a design plan that can be modified to fit the space available. When it comes to nontraditional franchise locations, a flexible buildout and efficient design are crucial due to the limited amount of space these types of locations offer. Flexible buildouts often let Franchise Owners open faster, too. As you review your franchise investment options, look for a brand that specializes in building to fit nontraditional spaces.
QDOBA expects to open roughly 24 nontraditional locations in 2023. The brand's flexible buildouts are designed to fit in just about any space — from as small as 300 square feet to over 2,500 square feet — and customized to fit the needs and market demands of individual locations. Each store is designed for efficiency to reduce food and labor costs.
How do I learn more about adding QDOBA to my portfolio?
QDOBA is a leader in the Mexican fast-casual segment. We're looking for people with experience in multi-unit restaurant/retail/hospitality/commercial development who are passionate about our product and ready to develop and lead a team. Our Franchise Ownership candidates must have a minimum net worth of $1M and access to liquid capital of $350K.
If you're ready to connect with our Franchise Development team, please call Lori Osley, Vice President of Franchise Development, at 858.766.4596, or complete the form below.